The Lakeside Park map is a "hat trick" of fun-filled thrills. This map features a jet jeep dirt track race for 14 racers, an RIB speed boat race, and a demolition derby arena with custom muscle cars.
The race track is a long, medium-width course with lots of long straight-a ways for passing, a few nice jumps, and many sharp curves. Careless drivers may find themselves up the river with no way out.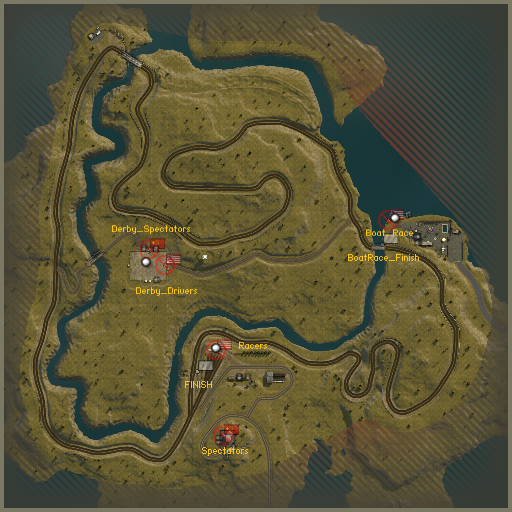 This track is laid out so that racers can run multiple laps, but the finish line flag turns when the first racer crosses. The course runs close to much of the river, over a pair of wooden bridges, and near the demolition derby arena. It then winds down the hill, over a stone bridge and past the Lakeside Amusement park (where the boat race starting gates are located). The racers then climb a long hill and pass through a series of S-curves, which brings them back down beside the river and to the finish line flag.
The boat race begins next to the Lakeside Amusement park and has it's own custom starting gate. There are 6 boats available for racing and each is fitted with a booster. Use your left SHIFT key to engage the booster. You're gonna "flip" over these boats (if you're not careful, that is).
The demolition derby arena features custom painted muscle cars, each with a booster and the ability to withstand a lot of damage. Be the last driver still alive at the end and you win a cookie. The derby starts when the steel drums drop down the pole.